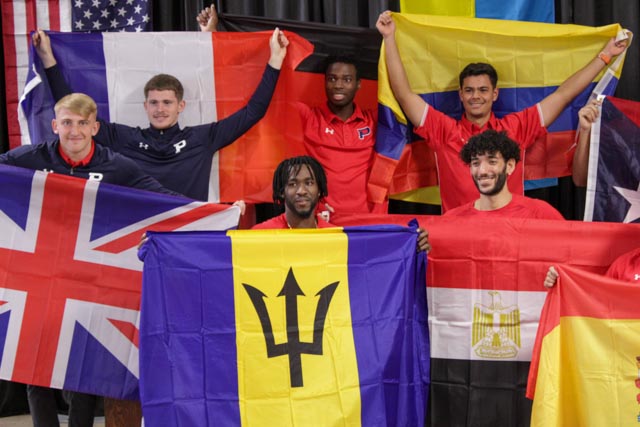 The world seems a little smaller after the Guymon, Okla., community celebrated Pangaea. "Pangaea," a Greek word meaning "all the earth," is an event honoring the diverse cultures which make up the city and surrounding area.  Seaboard Foods donated $2,500 as a presenting event sponsor.
In its fourth year, Pangaea is an award-winning event, celebrating traditions and cuisine from the seven continents. Guymon and area residents representing countries in each continent shared their traditions to build relationships with other attendees.
"Seaboard Foods chose to be a presenting sponsor of Pangaea because we believe in building relationships between cultures," says David W., community relations manager and member of the event's planning committee.  "We are fortunate to live in a culturally rich community like Guymon. I enjoy learning about different countries, their culture and sampling their traditional foods at the award-winning event. It's amazing to hear the honoree's story and how they ended up in Guymon."
The evening began with a parade of flags followed by an international meal featuring traditional dishes from each country. When the American national anthem was played, the group spontaneously respectfully stood and erupted into song. Then a seven-course meal followed featuring food from each country, including a list of new and familiar dishes. Seaboard Foods contributed 1 box of Prairie Fresh pork butts for the gorditas meal representing food from Mexico. ​
​"This event is about respect and appreciation. When you're in a crowd that's predominantly first and second generation, the patriotism and loyalty run deep. They have gratitude for our country for giving them the chance to support their families," said Director of Main Street Guymon Melyn Johnson.
Two of the speakers had Seaboard Foods connections. Venezuelan native Maria Eva I. left her homeland for Guymon when her husband Rey took a position at Seaboard Foods. Guymon High School Senior Emnet S.'s father moved from Ethiopia for a better life when he found a good living at Seaboard Foods. Now her mother and two other family members work at Seaboard Foods. ​